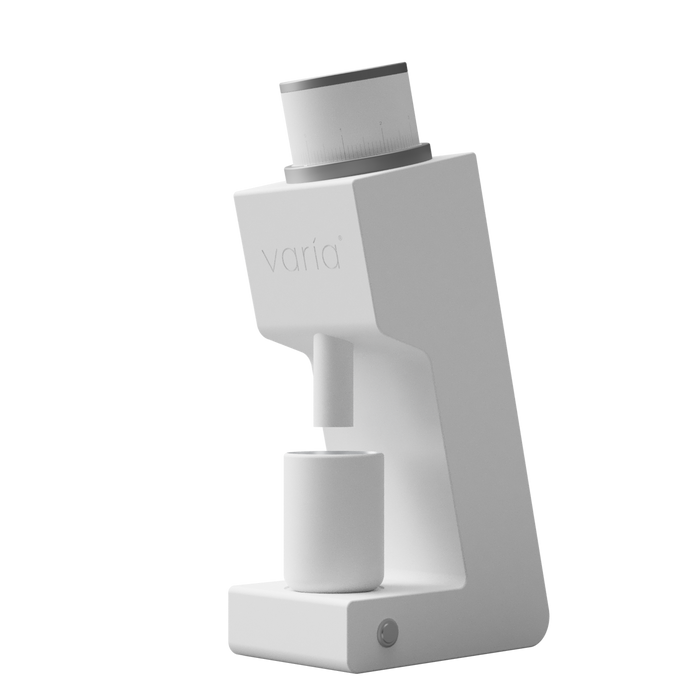 Varia VS3 Grinder
Sale
Sale
Original price
₱19,500.00
Original price
₱19,500.00
-
Original price
₱22,550.00
Original price
₱19,500.00
₱16,000.00
LAST FEW STOCKS!
Free shipping within Metro Manila.
The Varia VS3 (Varia Stepless 38mm) Electric Grinder utilises a sloped geometry with a 76.5° acute angle. Using this geometry also allows for ideal zero retention conditions as well as a better workflow in relation to adding coffee to the hopper, making grind adjustments, and 180° access to the dosing cup.
Our stepless adjustment is operated by turning the hopper in the desired direction. As a result of our stepless assembly, we can achieve virtually endless particle sizes giving you full access to experimenting with your brews.
A minimalistic approach to the user experience allows for an expression through fine details. We have integrated magnets into our hopper lid to connect with the hopper as well as our base to connect with our dosing cup.
FEATURES:
Burr Size / Type: 38mm conical 6 core 

Base Material: High nitrogen 420 Stainless Steel

Grind Setting: Stepless adjustment / (20 Micron) relative vertical burr shift or 0.02mm per increment

Retention (10g Dose): With RDT <0.1g / Without RDT: <0.2g

Grind Speed: Espresso: 0.5g/second / Filter: 0.8g/second

Hopper Capacity: 30g

Dimensions: 147 x 90 x 310mm

Weight: 3.2kg
ADDITIONAL BURRS:
SUPERNOVA STAINLESS STEEL (+ Php 2000)
For both filter and espresso with wider mid section of grind sizes - Medium-high acidity, medium clarity, medium-high body.
SUPERNOVA GOLD  TITANIUM (+Php 2300)
SUPERNOVA  BLACK TITANIUM (+Php 2450)
Improved top end range for espresso particle distribution at finer sizes.
Medium body, medium clarity with slightly more balanced profile when compared with the base Stainless Steel Burr Set
HYPERNOVA IRIDESCENT TITANIUM  (+ Php 2900)
Improved top end range for espresso particle distribution at finer sizes.
Medium body, increased clarity with slightly more balanced profile when comparing to the Supernova Titanium coated burr set.

*The base unit of the VS3 is installed with 
SUPERNOVA STAINLESS STEEL burrs
CHECKOUT & DELIVERY:
During checkout, please select the shipping method appropriate to you - Pickup, Metro Manila, or Outside Metro Manila. For orders outside Metro Manila,  please note that delivery can take up to 2-3 weeks and there will be an additional shipping fee depending on location to be charged after order processing.
QUESTIONS & DEMOS:
If you have questions about the machine or want to schedule a demo please reach out to  sales@yardstickcoffee.com